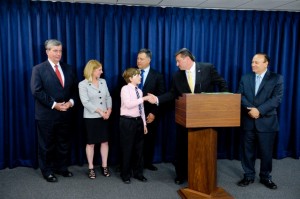 Bill Calls for Dog Owners to Pay Medical Bills of Attack Victims
by Michael V. Cusenza, The Forum
On April 16, 2009, Frankie Flora, 5 years old at the time, was mauled by a pit bull in Westchester for more than 20 minutes. He had four sections of his head removed down to the skull, and more than 1,000 stitches to suture some of the 100 lacerations. Doctors were forced to put donated skin on his head, until his own flesh and tissue repaired itself. Part of Frankie's right check had to be removed, leaving him with missing nerves, tissue, and glands. He also was left with some permanent hearing loss, among other lasting effects of the vicious attack. Since that spring day in 2009, Frankie has undergone more than 30 medical procedures, and is facing even more in the future.