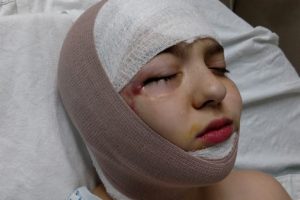 A new fund for Frankie Flora has recently been created at GoFundMe. So far, Frankie has had 36 medical procedures since the unprovoked attack by a pit bull on April 16, 2009. This photograph shows Frankie after a surgical procedure in February 2016. Doctors performed tissue expansion on his scalp.
Frankie continues to be an ambassador for Children's Miracle Network Hospitals and helping to raise funds for other children. That is an amazing undertaking after what he has survived, As his mother Maria states on the funding page, seven years ago:
"Things looked grim. Frankie's had 4 sections of his head removed, down to the base of his skull. He was operated on, received donated tissue until his own flesh and tissue would be able to repaired itself. Frankie lost massive amounts of nerves tissue, and glands in his face. His left and right cheeks were  ripped open. He has partial hearing loss, no feeling in his pointer finger. He's still a survivor, though. And we're with him every step of the way!"
Please share Frankie's GoFundMe page on Facebook!