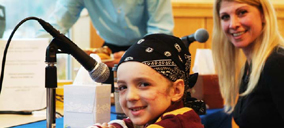 FOR IMMEDIATE RELEASE CONTACT: Maria Flora
845.223.9877 347.672.2354
maria@mariaflora.net
8 YEAR OLD SET TO HOLD NEWS CONFERENCE ON STATE CAPITOL STEPS
Dog bite victim and others rally in support of overturning the "One Bite Rule."
NEW YORK (June 11, 2012) On June 14, 2012 outside the New York State Capitol Building, dog bite victim Frankie Flora and others in favor of overturning the "One Bite Rule," will host to a news conference at 1pm on the steps of the building.
The news conference is held in support of Senator Neil D. Breslin's (D – Delmar) proposed S.1191- an act to amend the general obligations law, in relation to liability of owners for dog bites.
In 2009 Frankie Flora was attacked by a pit bull and suffered extreme severe injuries. Now at 8 years old, the 2010 Ambassador for The Children's Miracle Network continues to encourage, inspire and educate many throughout the State of New York.
New York State is a "one-bite state," which means the owner cannot be held responsible for the dog's first bite or injury to another, unless the owner was negligent in his actions to control the dog or if the dog is known to be dangerous.
Kenneth M. Phillips, Attorney at Law who represents people seriously injured by dogs stated, "There should be no right to bite. The one bite rule should be rejected in every state and country."
Founder and President of DogsBite.org Colleen Lynn says, "This is an historic day for all dog bite victims."
The New York State Capitol Building is located at 172 State Street Albany, NY 12247.
To support the proposed amendment S.1191 contact:
Senator Breslin 172 State Street, Room 413 Albany, NY 12247
Phone: 518.455.2225 Email: breslin@senate.state.ny.us
For information and to support Frankie Flora contact: Maria Flora 845.223.9877 maria@mariaflora.net www.frankiefund.com